Adding Multiple Businesses
The system is designed in such a way that you can run multiple businesses under the one account.

To manage your extra businesses go to "Setup > Company Settings".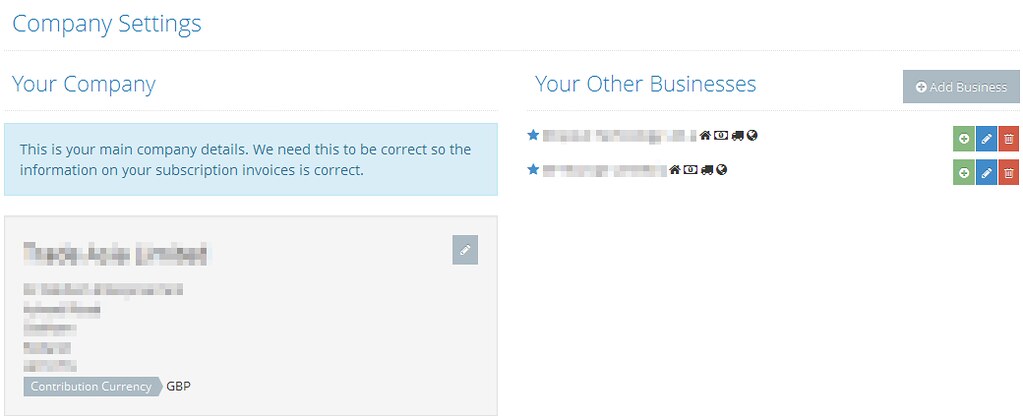 Related Articles

Document Templates

You can currently change the following document templates: Quotes Sales Order Acknowledgements Delivery Notes Purchase Orders Invoices Price Lists Credit Notes All of the above are based on a set of MS Word templates and you can edit these by going ...

Warehouses Overview

You can setup multiple warehouses if you store stock in different locations. Set them up on this page. When you are adding products you must select which warehouse you are adding the stock to. To transfer stock between warehouses use the stock ...

Users Overview

You can add as many users as you require to run your businesses and you are charged a set fee per month per user. To add users go to "Setup > Users" and click on the + Add User button. If you add a user and set "Administrator" to yes, that user will ...

API Tokens

If you have your own website you can send data from a contact form directly into Xploite using the Api. To use the Api you must first get an Api token. Go to "Setup > Api Tokens" and click on the "Get Token" button next to each of your businesses. To ...

Opportunities Overview

An opportunity is a way of recording that someone is interested in purchasing something from your company. You create opportunities in the same way as you create sales orders, i.e. adding products and kits to them. You can convert an opportunity into ...